Photography Displayed as Office Art
Distinguish your local company by choosing regional Houston scenes as your corporate art.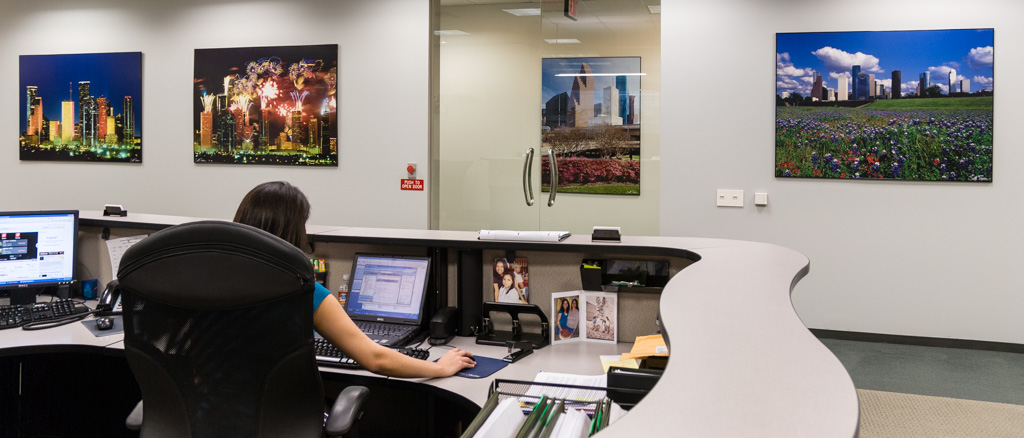 Picture Sizes and Framing



Photographs can be reproduced in a variety of sizes that will conform to any wall size. I offer Traditional Framing or Hover Framing. You can also purchase Unframed photographs if you wish to handle the framing yourself. Please check out examples of Corporate Artwork that I have completed for my customers.
What Size is Best ?
In general, the larger the room, the larger the art should be. Large artwork sizes are generally better in large workspaces like a conference room or reception area while smaller sizes may be adequate for a personal office or hallway. An easy way to determine the best frame size is to make a rough measurement of the wall space. First visualize a rectangular shape on the wall where you will hang the artwork. Mark each corner by putting a sticky note on each corner of the rectangular shape. Measure the height and the width of the rectangle. Then choose a frame size that is closest to that measurement. 
Office Art Planning
Need some help planning or sizing your office art? I can advise you regarding appropriate artwork sizes for office walls. If you are in Houston I may be able to visit your office space and provide suggestions. Please contact me to schedule an appointment.
You can also take a few photos of the wall where the art will be displayed and send them to me. When taking photos, back away from the wall as much as possible and shoot from an angle. Try to include as much of the wall as possible. Having furniture in the photo is fine.
Provide Your Own Photographs
You can also provide your own photos and I can convert them into art. I often repurpose existing photos provided by my customers. When the images are high resolution, they can be enlarged to almost any size. I can also resource other types of art and photography.